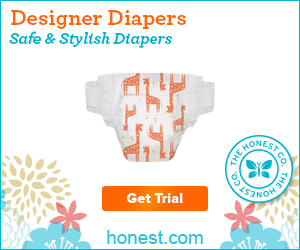 The Honest Company has a great deal on a Free Trial of their Diapers Bundle and Family Essentials Bundle.
This includes Wipes, Diapers, Shampoo, Lotion, Soap, Detergent and Balm. For signing up you can get both free and pay $4.95 shipping. If you like the products they will send you more every month for $79.95. If you want to cancel, you can do so at any time.
When signing up make sure you select both bundles and the shipping will only be $5.95 for both.
Wendy Barge commented on our Facebook page and wrote she got 5 diapers 10 wipes and a nice set of lotions and washes.