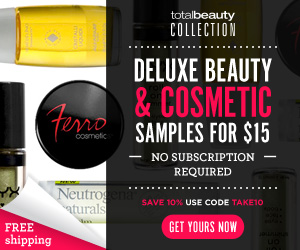 Do you remember those really cool beauty bags that big name store was sending out last year? Well they're charging for them now. And a lot of companies are jumping on board. But they're making them EVEN BETTER!
Total Beauty is offering this amazing Revlon Box with 4 full size Revlon products for only $12 shipped! The box is retail valued at $30, but with this deal you'd get each product for $3 a piece! This is NOT a subscription, so no need to worry about cancelling on time!
With promo code CPM20 you'll get 20% off the price of the box which is originally $15, making it $12!
Your Total Beauty Revlon Box will include each of the following full sized products:
Revlon ColorBurst Lip Butter in Sorbet
Revlon ColorBurst Lip Butter in Pink Lemonade
Revlon ColorStay Longwear Nail Enamel in Trade Winds
Revlon ColorStay 16 Hour Eye Shadow in Sea Mist
Revlon Spring Color Story Booklet
The Revlon Spring Color Booklet shows you different make up looks using the full size products.
There are a few other beauty boxes you can check out at an amazing deal on their page as well such as:
Face Forward collection – $85 value for only $15
Summer Travel Essentials – $35 value for only $17
Gym Essentials Collection – $25 value for $15
Bachelorette Party Collection – $120 value for $30
Head over to Total Beauty to check it out.