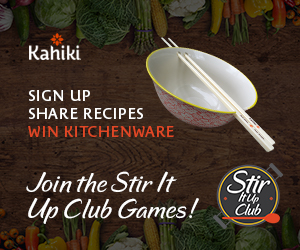 From now until December 30th, The Stir It Up Club Games will be giving away multiple Kahiki®-branded prize packs, full of food vouchers, kitchenware and vacation gear valued at up to $66!
Just head on over and sign up today so you can qualify. Once you've signed up, you can submit and share cool recipes and content with your friends and earn points.
All members will receive a buy one get one free Kahiki coupon just for signing up for the program.
This is a sponsored post that contains affiliate links.