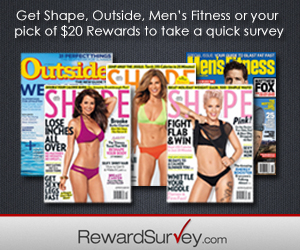 I've been sharing this one for months now and I have gotten tons of free magazine subscriptions from it!
Click here to join and take the survey. Should take about 2-3 minutes to complete. After you are done you can pick which magazine you want to order. I chose Playboy (no longer available) for someone as a 'gift' 😉
There are other magazines to choose from like Maxim, Glamour, Shape, Self, Martha Stewart, Golfweek, Wall Street Journal, and more! If you don't have enough "points" to redeem for the one you want I believe there are other surveys to take.
I received these 6 FREE magazine titles in 2 days of mail deliveries!