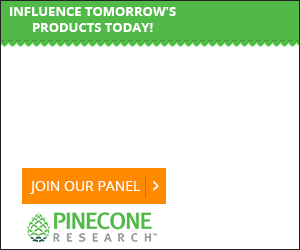 Pinecone is open for registration!
Join Pinecone Research to make money online taking surveys. I would not promote this if I haven't personally done this and been paid. This is THE best survey network to get in with, and their registration is limited.
They pay you $3-5 via Paypal for every survey you complete. Sometimes they even let you do in home testing which earns more money, plus a free product. I got to try a dish washing product that I ended up keeping for 1 month plus. Meaning I didn't pay anything for dishwasher liquid etc.
With this and other survey sites you may have to qualify. Below you can select the link you would like to apply through. If you don't fall into any of the categories, choose the bottom link.
Hispanic and 18 years or older
General Qualification – Use this link if you don't fall into any other categories