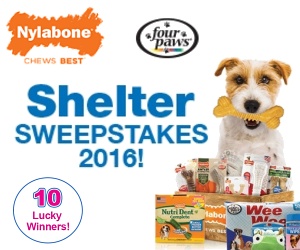 Enter to win $300 in Nylabone & Four Paws products for your dog + $1,500 in chew toys for the shelter or rescue you nominate. When you enter please nominate Shelter From The Storm. It's where my friend works and they've had to downgrade recently due to lack of funds.
Entries must be received by September 30, 2016 11:59 PM (ET). Only one entry per email allowed. Make sure to check your inbox to confirm your entry!
Winners will be selected the week of October 10th, 2016.